mindful garden, a mini retreat

MINDFUL GARDEN
a mini retreat
presented by
Bucket List Wellness Adventures
QG Floral
154 – 10 Cross Island Parkway, Whitestone, NY
space limited • reserve today
$340
"BOGO / 2-for-1 special"
Bring a friend!
🌿
Add friend's name/email in "additional info" and we'll send them a separate registration for Complimentary Attendance. 🌿
8-9:30am: yoga in the greenhouse • michelle cavanagh, here and now yoga
9:45-11:15am: increasing emotional intelligence • sommer chetty, coach me sommer
11:30am-12:45pm: healing with plants: an invitation towards inner balance • stephanie vázquez adames, herbalist
12:45pm: catered gourmet vegetarian lunch • näna good eats
and more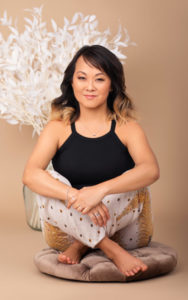 Here and Now Yoga
Owner/Instructor
All Levels Vinyasa Flow:
Pranayama (Breathing), Asanas, Restorative & Yoga Nidra (Guided Meditation)
Dance, to fitness, to martial arts, to yoga… 1994 NYU graduate, professional actor, martial arts instructor, NY & LA. 2010: Yoga Alliance (200-hr) Certification, 2018: Restorative Yoga Certification. 2023: Master of Science in Environmental Nutrition from University of Memphis. Achieve your goals, day by day, in a safe, healthy and supported approach.
Coach Me Sommer
Owner/Empowerment Coach
Increasing Emotional Intelligence
Empowerment coach helping women step out of overwhelm to create the life they have been too busy to dream up. Understand the thoughts keeping you from whatever it is you want to achieve. Choosing new, motivating thoughts that drive desired action.
Herbalist
Healing with Plants: An Invitation Towards Inner Balance
Clinical herbalist, Arbor Vitae School of Traditional Herbalism, NY, background in education. Clinical work utilizing medicinal herbs and facets of Traditional Western Herbalism, Vitalism, Ayurveda, and Traditional Chinese Medicine. Training in anatomy, physiology, nutrition, and fasting. Life-long lover of nature and avid runner & hiker, passionate about drawing people closer to the natural world and learning to live in greater harmony with it.